Nov 16, 2018 04:19 PM Central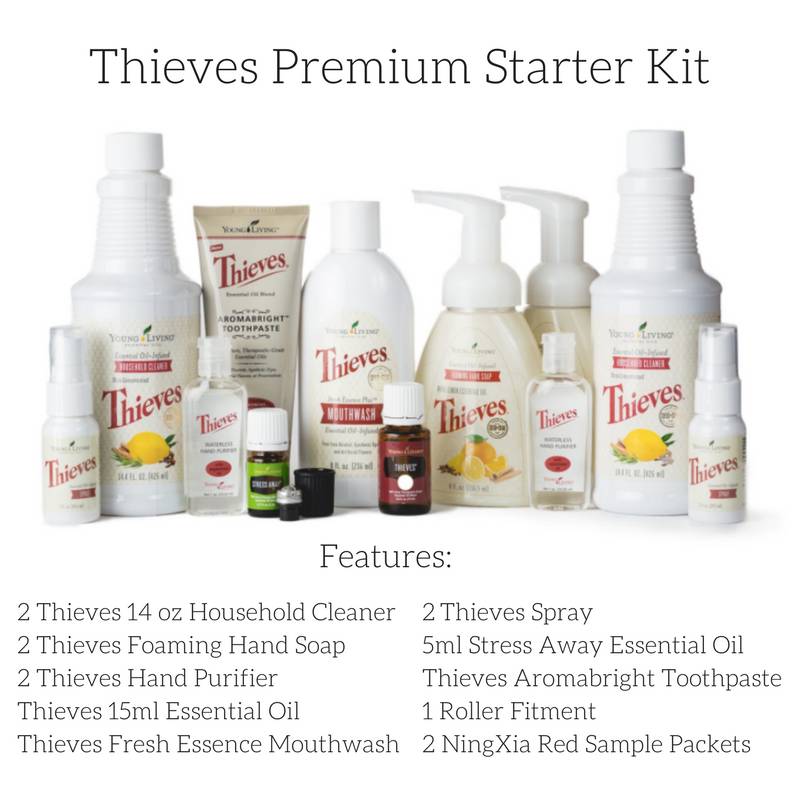 It's that time of year again, the turn of the weather means time to prepare & fortify your wellness arsenal! Young Living's created a line of products from our most popular Flagship Thieves Essential Oil Blend. This Warm & Spice and everything nice blend of Cinnamon, Clove, Eucalyptus, Rosemary & Lemon gives you everything you need for any kind of day!
Thieves Vitality is a great place to start. It's safe to ingest, so you can support your immune system right away! Just add a drop to a spoonful of honey &/or with tea that has cooled for 3-4 minutes. Consider adding a drop to your warm salt water gargle.
Thieves Cough Drops are powerfully targeted to relieve a cough, soothe a sore throat, and cool nasal passages. With Menthol, its triple action formula provides you with the pure relief you seek, with no artificial ingredients nor sugar added. (a winter favorite of 1,000''s, have made them temporarily out of stock)
*** NEW!!! For on-the-go aromatic relief & topical cleansing properties, try our pre-diluted Thieves Roll-on. Apply it to your wrists or the back of your neck for an extra dose of relief during rush hour traffic or while on a long road trip. Keep it with you to purify stuffy air anywhere!
Cleanse and purify your hands with 100% pure Nature, using our Thieves Waterless Hand Purifier. It's convenient, portable, long-lasting & moisturizing, with no sticky residue! It's enhanced with the fresh scent of Peppermint Oil. Available as a single, 3 pack or large 7.6 oz pump.
To purify surfaces: shopping carts, public restrooms, airplanes, hotel rooms, etc., try our on -the-go, travel friendly Thieves Spray! This 1 oz. spray packs a punch & comes as a single or 3 pack.
Consider there's a reason Thieves is made into so many products & get the best of collection in our Thieves Premium Starter Kit, you'll save $$$ & be qualified for all future orders at 24% off for life *
Feb 26, 2018 01:10 PM Central
So many of us have received great benefit from our long lasting Cool Azule Pain Relief Cream (item #5759), want to know why? I've included a video here as to how it works.
It's always a good idea to support ones cartilage & joints, because we use our wrists, hips & knees, in particular, quite a bit everyday. Young Living is the rare company that includes pure safe Essential Oils in a unique way in our supplements. The reason for this is bio-availability increases & the E. Oils in of themselves, are highly beneficial. After years of research, AgilEase is available to give incredible support!! Prior to it's availability, I tried many Tumeric formulas, teas, tinctures, etc. , none ever matched AgilEase. As I looked at the research, there's much more to how the formulation was made that makes it so very effective, click on the link to read more. https://static.youngliving.com/en-US/PDFS/AgilEasePIP.pdf
So if one isn't already a wholesale customer, I recommend ordering a wholesale membership, explore our various kits, including our Basic Starter Kit at low price of $45. It will allow you to get these items at 24% off for life. You'll love getting the bottle of Stress Away E. Oil in that kit, along with other great goodies, as life & pain brings stress, so when we relax, it helps everything go better!