Jan 2, 2018 01:59 AM Central
Laura Morrison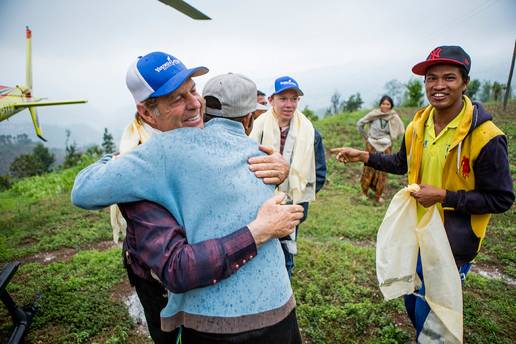 As I reflect, I have sooo very many blessings I'm grateful for: clean water, electricity, clothing, a roof over my head, the list could go on, including, as well, all the wonderful relationships I enjoy. It's also a privilege to share Young Living Oils & products with so many, then to hear from them how it's enriching & improving their lives.
Did you know Young Living covers ALL the administrative costs of our Foundation, so 100% of donations go directly to their six charities? (In addition to as needed projects like Hurricane & Earthquake disaster support)
There's 4 easy ways one can give: 1. Click on the website link
https://younglivingfoundation.org
2. Round up your Young Living Product order. (if everyone did this, it adds up to $4 million annually) 3. Add a donation to your order at the check-out page
4. When ordering on Amazon at
https://smile.amazon.com
. (find Young Living Foundation to select as your beneficiary , It might be under D. Gary Young Foundation, the previous name)
These are the ongoing projects & a brief description of each one. (For more in depth information see link above)
1. Hope for Justice: Freeing & Restorative Care for those stuck in the horrible slave trade.
2. Rebuild Nepal: Post 2015 Earthquake rebuilding. Some homes & 1 school are rebuilt with more to come. Incomes are restored by offering training & local trades. The new school is our 2d Young Living Academy, with child sponsorships available.
3. African Hearts: Rescuing orphaned kids from the slums into transitional homes providing food, health care, clothing & schooling. Each home has resident caring adults to help the children grow & flourish with love.
4. Young Living Academy Ecuador: Education & trade school learning, for kids K-12, serving now 340 students. 2 classes have already graduated. Each child is sponsored to provide meals, uniforms & health care.
5. Soul Hope: Freedom from foot-related diseases, isolation & possible gangrene. Providing medical care & shoes to help remove & remain Jigger free. (A disease carrying, pain causing parasitic sand flea that imbeds into bare feet in certain African Areas. )
6. Healing Faith Uganda: Malaria eradication & treatment. Many with malaria have received treatment & thousands of mosquito nets have been distributed.
This photo is of our founder D. Gary Young & his son arriving in Yarsa, Nepal bringing warm blankets & equipment needed to start the initial rebuilding. He, his teenage son & other volunteers started debris clearing to the surprise of the villagers, who had never seen any important "dignitaries" actually lift a hand to help. They were most shocked an American Teenager would put so much sweat effort into all he did, sleeping in a tent with no available showers, as well as playing soccer with the village kids. In winter of '16, Gary mushed through 2 freezing dog sled races in Alaska, all with the purpose of raising funds to build more houses.